Efficacy
of a movement control injury prevention programme in adult men's community
rugby union: a cluster randomized controlled trial
Attwood
MJ, Roberts SP, Trewartha G, England ME, & Stokes KA. Br J Sports Med. 2018; 52: 368-374.
Take Home Message
: A 42-week
progressive injury prevention program reduced the incidence and burden of head,
neck, and concussion injuries among rugby teams.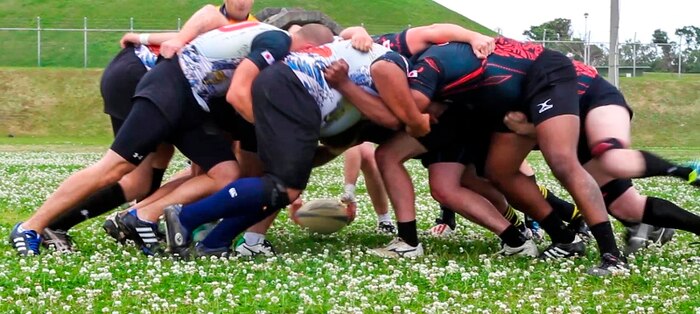 Sports Med Res has
many posts reporting the efficacy of injury prevention programs (see sample
below); however, we know little about the efficacy of injury prevention
programs within collision sports, such as rugby.

The authors of this randomized trial
investigated the effects of a 42-week exercise program among adult men's rugby
clubs on injuries during a match. The authors recruited 81 teams randomized to
an injury prevention program or normal practice exercises. The injury
prevention program involved seven stages of 6-week blocks of exercise
programming that progressively got more difficult.

Similar to many prevention programs (e.g.,
11+ program), the exercises involved a warm up, balance/proprioception,
resistance and perturbation, landing, cutting, and plyometric exercises.

These were performed twice per week in
season, and once per week at pre-match. The study team tracked injury incidence
and injury burden. The researchers defined injury as missing greater than 8
days of play and categorized them as overall or "targeted" (i.e., specific
injury to a body part diagnosed as strain, sprain, joint and neurological
injury that was not a contusion, fracture, laceration, or of unknown
origin).

Injury burden was defined as
how many days missed from practice/match play.
Nearly half of the teams dropped out or failed to report data.

Among clubs reporting data, the injury
prevention program likely reduced targeted injury incidence and injury burden compared
to standard exercises. Specifically, the program offered a 40% reduction in
lower extremity injuries, and a 60 to 70% reduction in injuries to the head or
neck (including concussion).
Interestingly, the authors reported the program may increase the risk of
shoulder injuries.

Program compliance
was a key factor linked to a greater reduction in targeted injury burden.
This study shows that there are some
clear benefits to injury prevention programs within a collision sport, and
reemphasizes that compliance is critical to success.

This program was only done 2 to 3 times per
week, yet lasted for the majority of the year.
This may explain why almost half the clubs in each group dropped out or
failed to report data. The teams may have not liked the length of the program,
or the program exercises itself.

Due to
the high dropout rate, the results of this study should be interpreted with
caution.

It would be interesting to learn
why some clubs stopped performing the program since this would be beneficial to
breaking down barriers for injury prevention program integration into sport
culture.

This injury prevention program
also helped in reduced concussions, and the authors related this to isometric
neck exercises that were incorporated into their program.

This is a great reminder that injury
prevention programs can be tailored to meet the sport-specific demands and commonly
seen injuries.

It would be interesting
to continue to look at program modifications within different sports.

Surprisingly, the injury prevention program
was associated with an increase in shoulder injuries, specifically
muscle/tendon.

While the authors did not
provide a reason, it may be related to the volume/load of exercises performed
and possible fatigue before participation minimizing eccentric control.

More information regarding
contact/non-contact injuries and at what point in the season they occurred may
be beneficial to better understanding the application of a program like this.

But ultimately, injury prevention programming
can be tailored and seem to work in collision sports to reduce injury incidence
and burden.
Questions for Discussion
:

What
modifications might you make to an injury prevention program based on the sport
that you work with?

Do you see any
implications for injury prevention programming in other areas than sports teams?
Reviewed
by: Jeffrey Driban
Related
Posts: